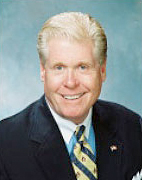 In early 1980 Rick Miller, founder & President decided there was a niche in the hospitality industry to bring qualified users of travel products together with suppliers capable of meeting and exceeding their expectations. That niche became HRM Marketing, Inc., parent company to Carriage Trade Golf. HRM created a new conduit of communication between consumers of deluxe travel products be they individual, group or incentive linking them with entities capable of meeting their needs.
carriage trade golf, inc.
Now its own corporation served for 12 years as HRM Marketing, Inc's golf and resort specific arm addressing the needs of three categories of clientele.
Individuals and small groups seeking exceptional golf & resort vacations wherever the game of golf is played worldwide with emphasis on Scotland, Ireland, Wales, England, Spain, New Zealand, Australia and the domestic United States.
Meeting and event managers seeking inspirational meeting sites which include top quality golf and entertainment options.
Companies seeking motivational travel incentives.
our mission
To represent our client's interests professionally and efficiently in the travel industry upholding impeccable ethical standards and to deliver the best possible price/value relationship.
ctg's serve first philosophy
As an international golf tour operator since 1994, the company has been assisting an enthusiastic clientele access the world's great courses literally Wherever the Game is Played. Client's wish lists take them to Scotland, Ireland, England, Wales, Spain, Australia, New Zealand and all points in between. Our diverse clientele is comprised of couples, men's golf groups, PGA professional escorted trips, private and public golf club members and corporate incentive customers.
visit our top five picks page
Be it domestic or international, we have our favorite trips to present. Be assured however, we are delighted to arrange a perfect golf trip Wherever the Game is Played for you. These five domestic and five International trips are tried and true having received rave reviews from our many clients. We refer to these preferred destinations as our Official Providers but we have extensive business relationships worldwide to make your next trip the best experience it can possible be.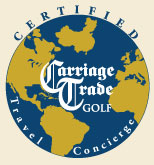 Becoming a Certified Carriage Trade Golf Travel Concierge can be rewarding and exciting. If you are looking for a new business opportunity utilizing your love of the game of golf, business experience to represent Carriage Trade Golf as a professional golf travel arrangement specialist I invite you to review our web site. Serious people who meet our qualifications can become official representatives of the company titled as a Certified Carriage Trade Golf Travel Concierge. CTG will provide the tools necessary to present and sell golf vacations and enable successful representatives to share in profits derived from their efforts and/or enjoy global golf travel as well.

Sincerely,
Rick Miller, CEO
Carriage Trade Golf, Inc.
Exceptional - Group or Personal Golf Vacations
Meetings / Incentives