"Mindful of
HISTORY

and respecting golf's grand

TRADITON

Carriage Trade Golf provides

ACCESS

to golf's many venues to our varied and sophisticated clientele."

Rick Miller, CEO
history
Golf's history began in Scotland in the 12th Century with shepherds knocking stones into rabbit holes over the land that links the sea with the shore, i.e.; links land. The game grew and evolved over the centuries in British Isles and other locations in the Old World. Old Tom Morris placed 2nd in the 1st British Open going on to win it at total of 5 times. He then went on to design courses throughout the British Isles.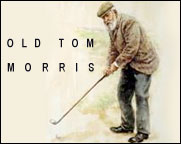 Old Tom Morris
tradition
The game's great tradition has been maintained by the Royal and Ancient Golf Club of St. Andrews Scotland which was originally formed as The Society of St. Andrews Golfers in 1754. Recognized American golf personalities such as Bobby Jones, Tom Watson, Jack Nicklaus and Ben Crenshaw are noted for their reverence for golf's grand traditions. At CTG we suggest new clients begin their discovery of traditional links golf where the game began on The Old Course.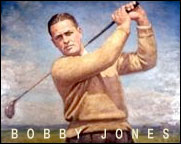 Bobby Jones
access
As an international golf tour operator since 1994, the company has been assisting an enthusiastic clientele access the world's great courses literally Wherever the Game is Played. Client's wish lists take them to Scotland, Ireland, England, Wales, Spain, Australia, New Zealand and all points in between. Our diverse clientele is comprised of couples, men's golf groups, PGA professional escorted trips, private and public golf club members and corporate incentive customers.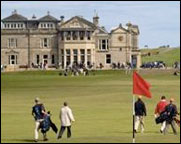 Carriage Trade Golf
clients walking up
#18 on The Old Course
"Earning your business is a task we don't take lightly. Our commitment to you is to
DELIVER

the finest price/value relationship in the field. Like a fine private club we do this via relentless attention to detail and a stern commitment to service. as a client you become a member"…

Rick Miller, CEO
---
delivering service, price and value
Clients are insured of our commitment to quality and our ability to listen carefully to their wants and needs. No two trips developed by Carriage Trade Golf are exactly the same and each is tailored specifically to the client's wishes. This is accomplished by blending the world's most notable golf destinations such as Ballybunion and Old Head in Ireland, St. Andrews and Turnberry in Scotland with Hidden Gems such as Scotland's Cruden Bay and Northern Ireland's Ballyliffin. Customers are ensured of a strong price/value relationship every trip.